Metro Denver has 2.1 months of inventory on the market. This means that, at the current pace of sales, it would take just over 2 months to sell every single-family home currently listed for sale.
But that's not the whole story because inventory levels vary drastically depending upon the price of the home.
When we take a closer look at months of inventory broken down by price range this is what we see:
• Under $400,000 = 0.9 months
• $400,000 to $500,000 = 1.8 months
• $500,000 to $750,000 = 3.1 months
• $750,000 to $1,000,000 = 4.2 months
• Over $1,000,000 = 7.7 months
These numbers represent great news for move-up buyers because they can sell in a strong market and potentially move up to a market that is market that is not as strong.
              Below is a short video with a recap of our annual Market Forecast presentation!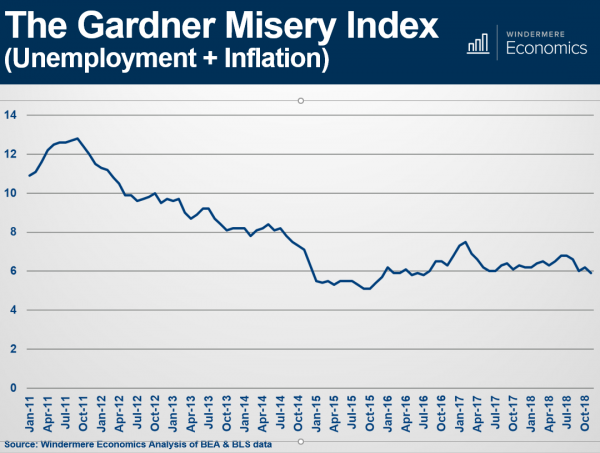 Last week at our Market Forecast events, Chief Economist Matthew Gardner shared, among many stats, his famous "Misery Index."
A valuable statistic with a funny title.
The Misery Index simply measures inflation plus unemployment.
It's an effective way to look at our Nation's economy.
Today's Index sits just below 6%. Back in October 2011, it was close to 13%.
The lowest it has been in the last 7 years is October 2015 when it was near 5%.
       ________________________________________
         If you would like a copy of the entire Forecast presentation, go ahead and reach out to us.
We would be happy to put it in your hands.
Posted on January 25, 2019 at 6:45 pm
Windermere Windsor
Category:

Blog, Fun Facts, Market News
Tagged

blog, economy, Fun Facts, Index, Inflation, Market Forecast, Matthew Gardner, Misery Index, Statistics, Unemployment, Windermere Real Estate
This past Wednesday and Thursday evenings we had the pleasure of hosting our annual Market Forecast events in Denver and Fort Collins.
Thank you to the 700 people who attended. We appreciate your support!
In case you missed the events, here are some highlights including our forecast for price appreciation in 2019:
• In 2018 Prices went up:
o 8% in Fort Collins
o 8% in Loveland
o 8.5% in Greeley
o 8% in Metro Denver
• Inventory is (finally) showing signs of increasing:
o Up 25% in Northern Colorado
o Up 45% in Metro Denver
• There are distinct differences in months of inventory across different price ranges = opportunity for the move up buyer.
• There are several reasons why we don't see a housing bubble forming:
o New home starts along the Front Range are roughly 60% of pre-bubble highs 14 years ago.
o Americans have more equity in their homes than ever, $6 Trillion!
o The average FICO score of home buyers is significantly higher than the long-term average.
o The home ownership rate is back to the long-term average.
• Our 2019 Price Appreciation Forecast:
o 6% in Fort Collins
o 6% in Loveland
o 7% in Greeley
o 6% in Metro Denver
If you would like a copy of the presentation, go ahead and reach out to us. We would be happy to put it in your hands!
Posted on January 18, 2019 at 9:25 pm
Windermere Windsor
Category:

Blog, Fun Facts
Tagged

blog, Denver, Fort Collins, Fun Facts, Housing, Market Forecast, Metro Denver, northern colorado, Price Appreciation, Windermere Real Estate