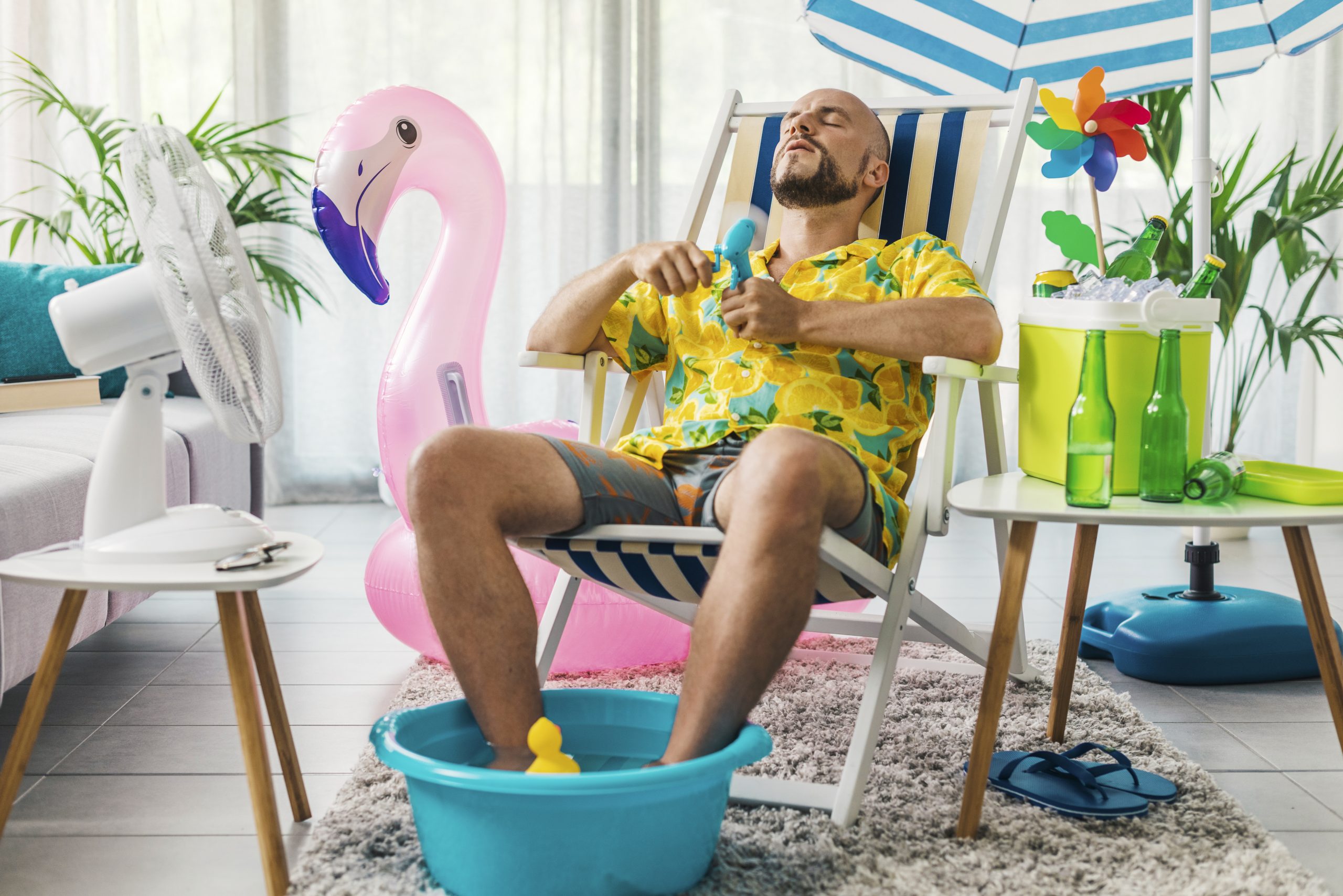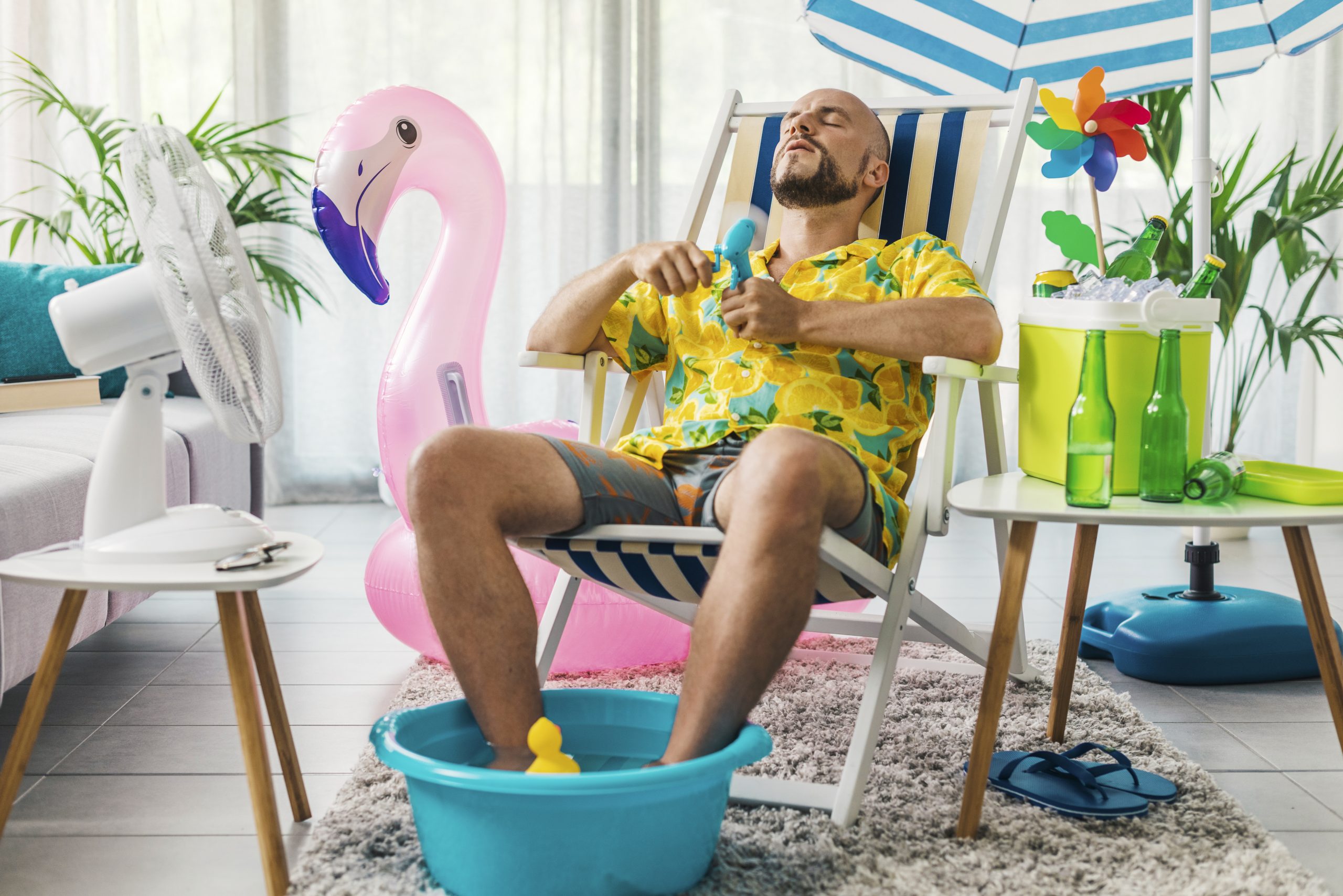 "I thought the market was cooling off, so why are prices still going up?"
This is a frequent question we hear from our clients.
They are understandably confused by the fact that average prices have continued to rise at a rapid pace even though sales activity is slower than what it was 6 months ago.
Bottom line, they want to know why prices are up along the Front Range anywhere from 12% to 17% compared to last year.
Firstly, we don't expect this pace of price appreciation to continue.  What we foresee is price growth going back to the long term average of 5% to 6% per year.
The reason why we still see double-digit growth comes down to two words.  Supply and Demand.
Supply, while higher than a year ago, is still relatively low.
Also, demand, while lower than a year ago, is still relatively high.
The market is still healthy, just not as frantic as it was.
Properties are still selling, but bidding wars and multiple offers have mostly gone away.
Sellers remain in a strong position, but they face more competition than before.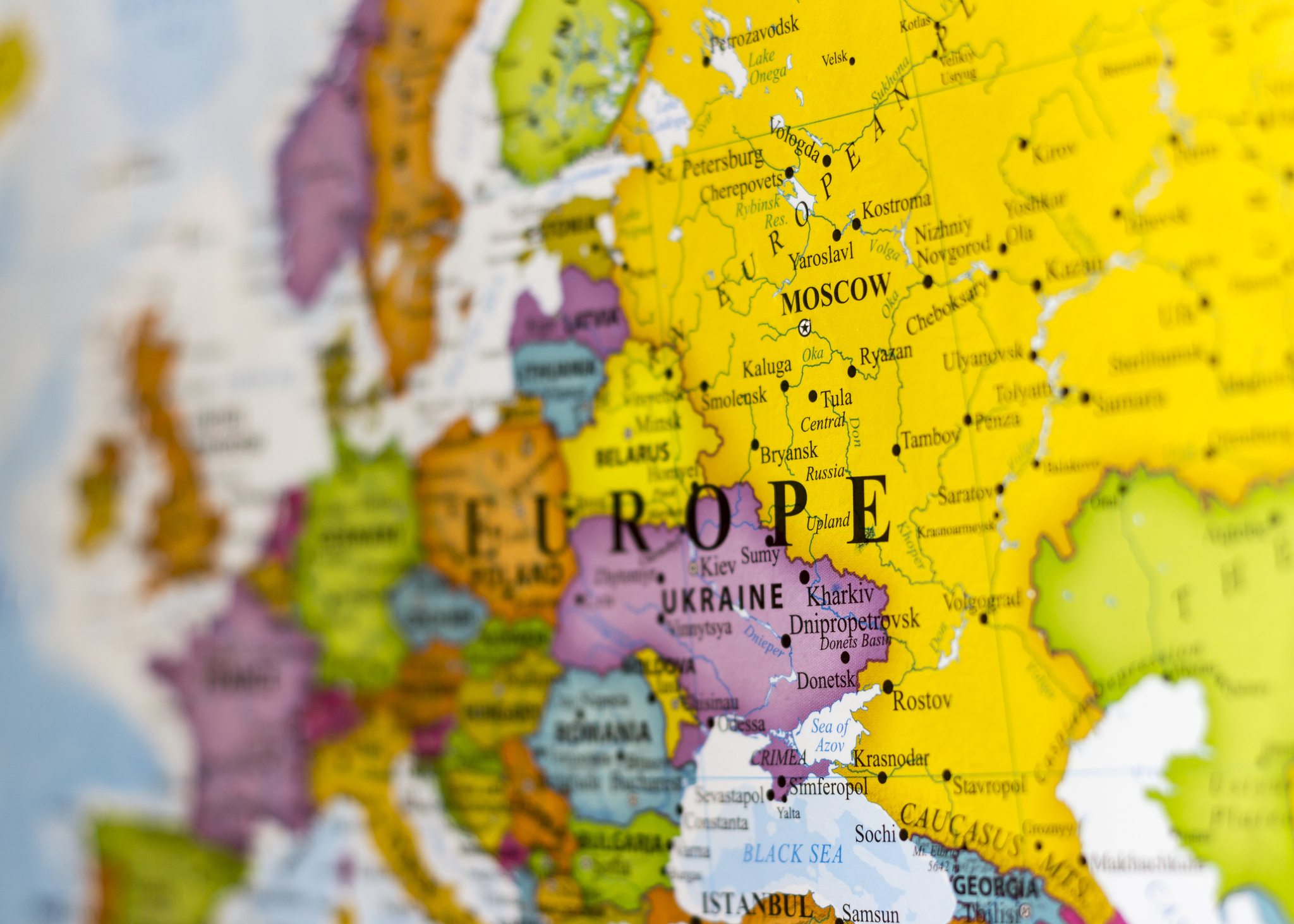 Our clients are curious to know what the conflict in the Ukraine will mean for mortgage rates.
The short answer is down in the near term and up in the long term.
Generally speaking, economic and political uncertainty drive people to invest in bonds rather than stocks, which puts downward pressure on interest rates.
So, in the near term, the conflict in the Ukraine will push rates down slightly.  We have already seen this happen as 30-year rates have dipped in the last few days.
The conflict is likely to push oil prices up which means higher gasoline prices.  This will cause upward pressure on inflation, which ultimately causes upward pressure on interest rates.
So, the longer the war lasts in Europe, the more likely it is to push interest rates even higher.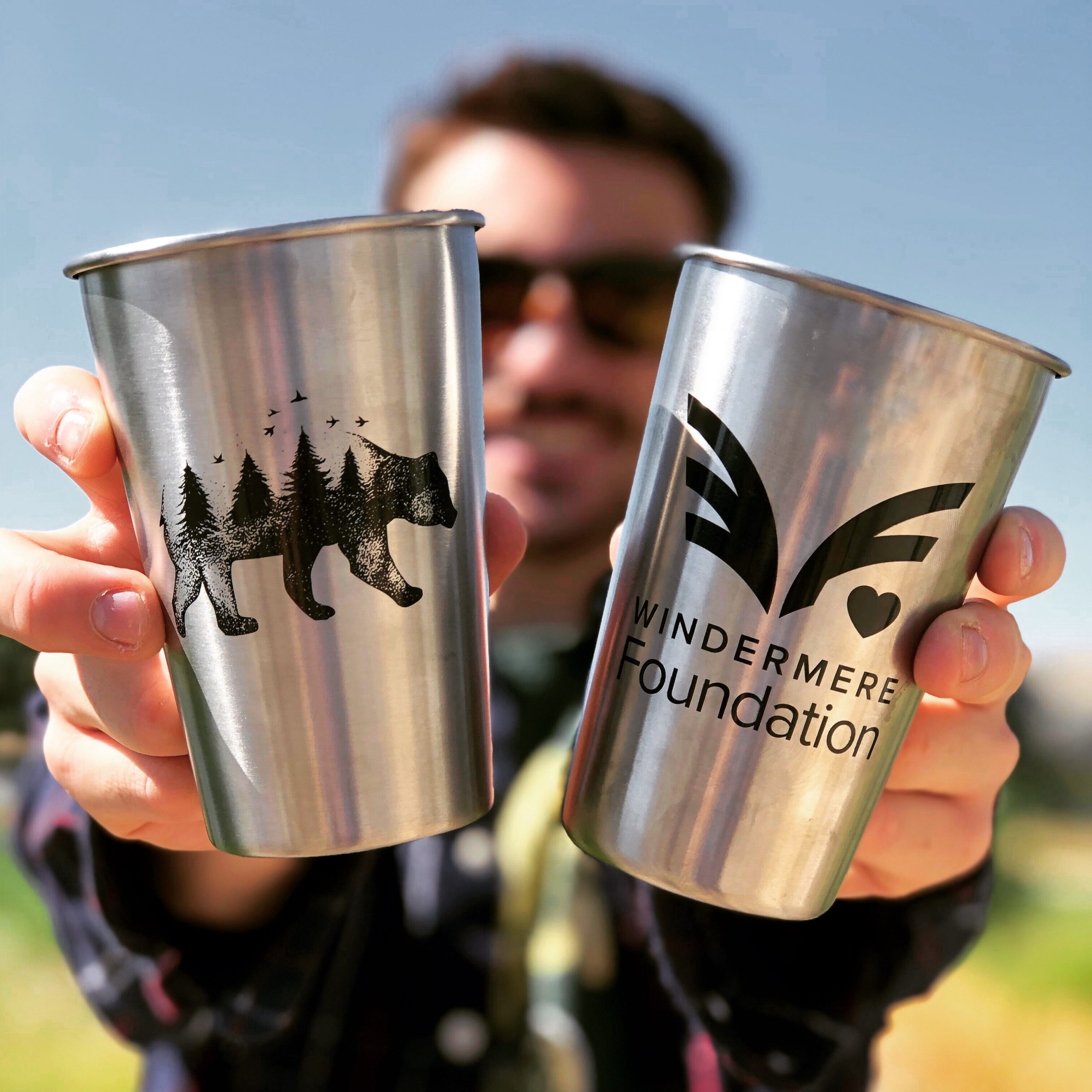 September signifies something different for everyone: for some it's the beginning of football season, for others it's the end of summer, but for our Northern Colorado team, September means it's time to tailgate! Each September, for the past five years, we have hosted our Windermere Foundation Tailgate Party to raise funds and spread awareness in support of a local organization dedicated to the betterment of our community.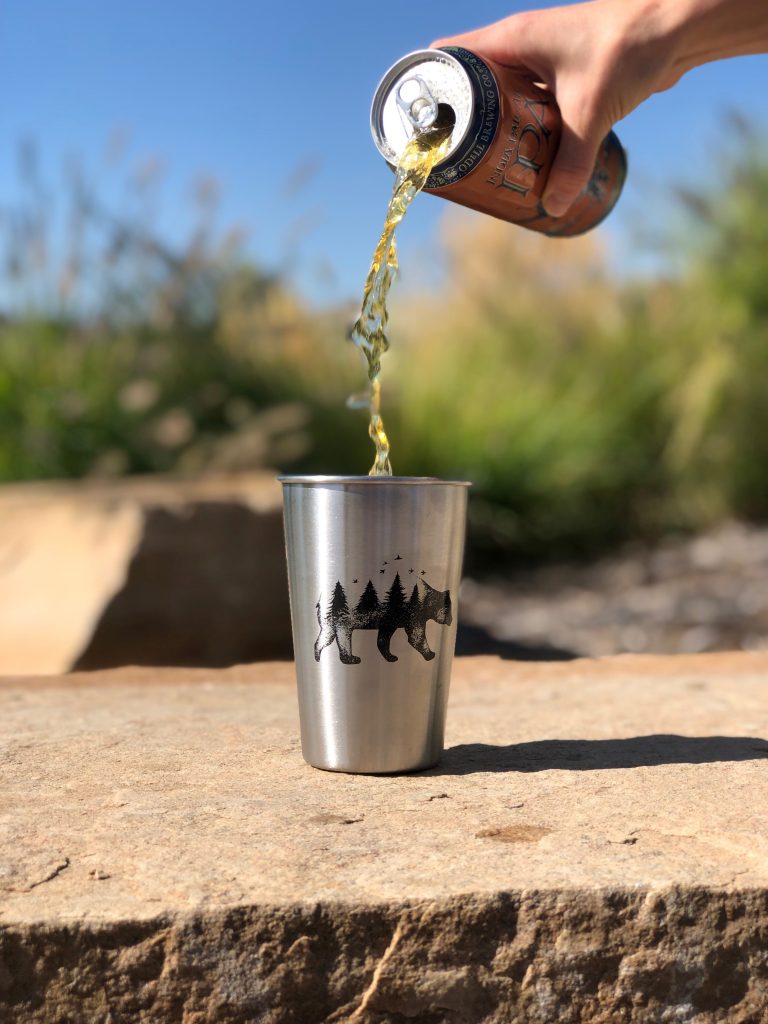 This year, we teamed up with ChildSafe Colorado, a non-profit that provides resources, education and treatment to victims of childhood abuse. For such an amazing organization, we had no choice but to go all out. On September 17th, 2021 we joined together as a community on to party with a purpose. Our guests enjoyed complimentary drinks, complimentary food from Pepe's Tacos and the Ball Joint, and live music performed by Kelsey Jo and the Wildcards. Special entertainment was also available for the kids in the form of balloon art, face painting and a petting zoo!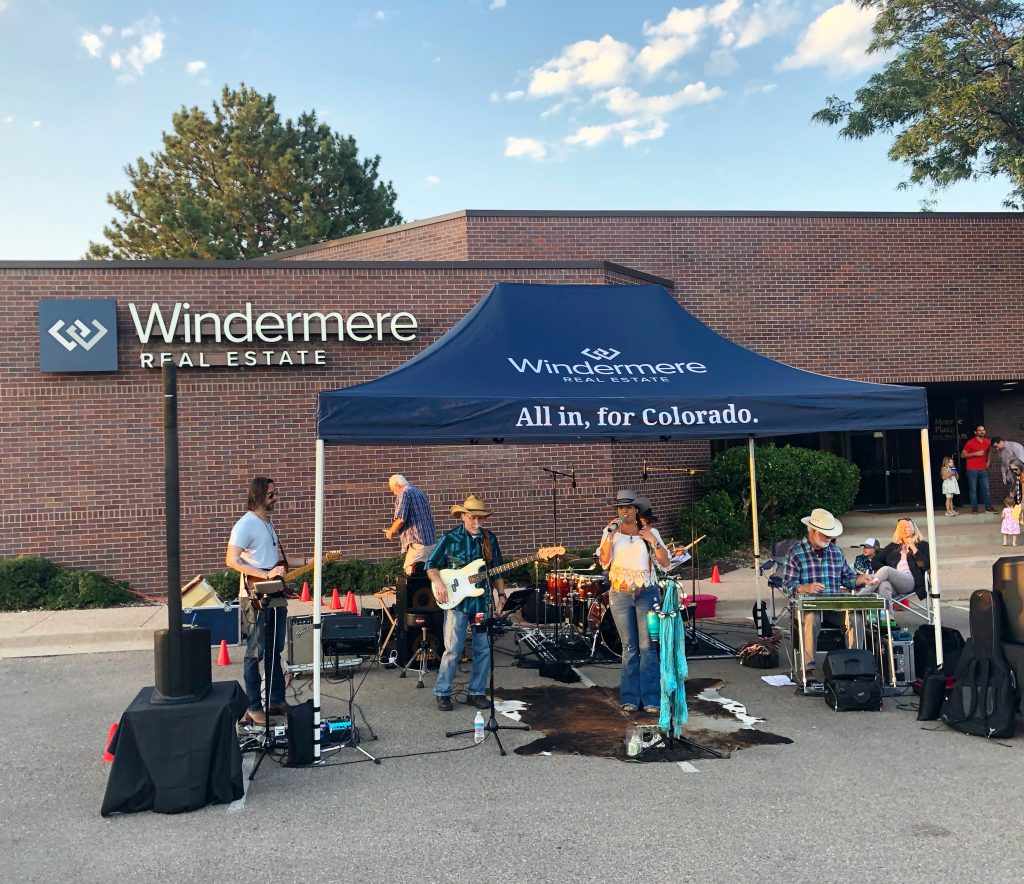 To raise funds, custom-made cups were available for purchase and prizes donated by local businesses were raffled off. Otterbox, Walmart, Pure Barre Fort Collins, Orangetheory Fitness, Board 30 Fort Collins, Ascent Climbing & Fitness Studio, Pure Drip IV, The Cupboard, Butter Cream Cupcakery, Rally5 Crafted Eats & Bar, Jax Outdoor Gear, New Belgium Brewery, Odell Brewing Co, Coyote Gold, Smilin Faces Face Paint, Painting with a Twist, Amy Vandegrift with Skin Pretty Aesthetics, and Kali Johnson with Salon One Ten were among the generous donor who contributed to the event.
With the help of our platinum donors Elevations Credit Union and Fidelity National Title Company in Northern Colorado, we were able to raise over $4,000 dollars in support of this wonderful organization.
Want to get involved? Click here for more information. 
A common phrase that is being used right now to describe the market is 'no inventory.'
'There's no inventory' is said frequently among those inside and outside of the real estate industry.
The problem with this phrase is that it is untrue.
There is inventory.  Meaning, there are a significant number of new listings hitting the market.
However, there is low standing inventory.  Meaning, the listings that do hit the market don't stick around for very long before they are purchased.
Standing inventory, which is the number of active properties on the market, is down roughly 70% along the Front Range.
However, the number of new listings coming on the market is essentially:
Double compared to December 2020
Only 20% to 25% less than this time of year in 2017, 2018, and 2019
So, there is inventory available, it just sells quickly because demand is historically high right now.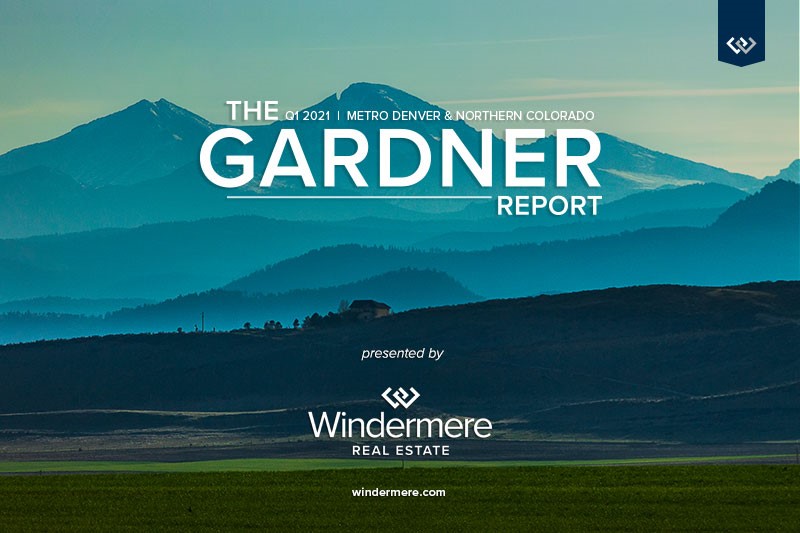 The following analysis of the Metro Denver & Northern Colorado real estate market is provided by Windermere Real Estate Chief Economist Matthew Gardner. We hope that this information may assist you with making better-informed real estate decisions. For further information about the housing market in your area, please don't hesitate to contact your Windermere Real Estate agent.
REGIONAL ECONOMIC OVERVIEW
Following the decline in employment last winter, Colorado has started to add jobs back into its economy. The latest data shows that the state has now recovered more than 219,000 of the 376,000+ jobs that were lost due to COVID-19. This is certainly positive, but there is a long way to go to get back to pre-pandemic employment levels. Denver and Fort Collins continue to have the greatest improvement in employment, but all markets show job levels well below pre-pandemic levels. With total employment levels rising, the unemployment rate stands at 6.6%, down from the pandemic peak of 12.1%. Regionally, unemployment levels range from a low of 5.6% in Fort Collins and Boulder to a high of 6.7% in Greeley. COVID-19 infection rates have started to increase again, and this has the potential to negatively impact the job market. I am hopeful that the state will not be forced to pull back reopening, but this is certainly not assured.
COLORADO HOME SALES
❱ 2021 started off on a bit of a sour note, with total sales down 1.2% compared to the same period in 2020. Sales were 29.2% lower than in the final quarter of 2020 as 8,645 homes sold.
❱ Sales were higher in four of the counties contained in this report, were essentially flat in one, and dropped in seven. It was pleasing to see significant sales growth in the large counties of Denver and Adams.
❱ Another positive was that pending sales, which are an indicator of future closings, were 4.8% higher than in the fourth quarter of 2020 and 5% higher than a year ago.
❱ The disappointing number of home sales overall can primarily be attributed to the woeful lack of inventory. Listings in the quarter were down more than 61% year over year and were 40.6% lower than in the fourth quarter of 2020.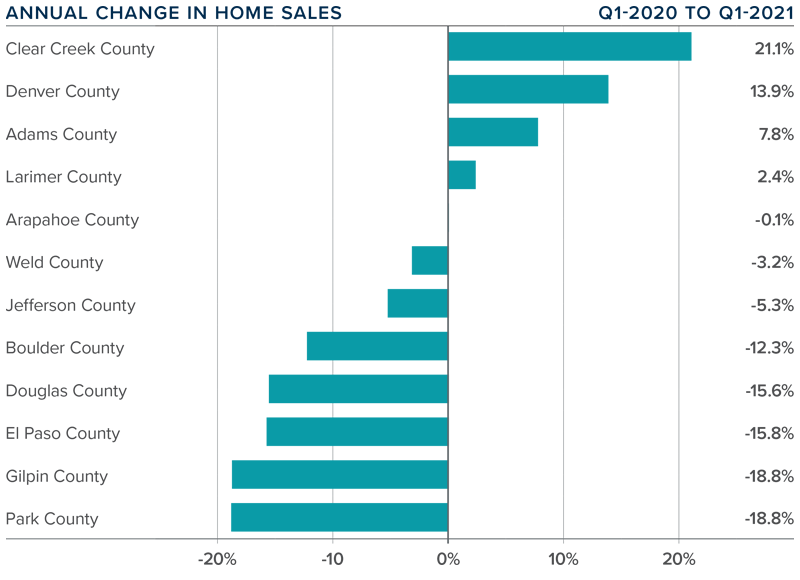 COLORADO HOME PRICES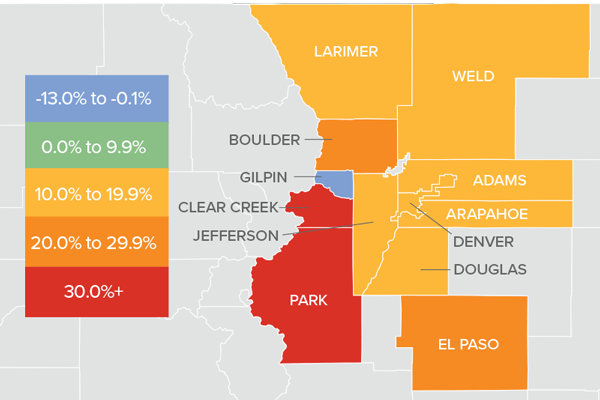 ❱ Prices continue to appreciate at a very rapid pace, with the average sale price up 16.5% year over year, to an average of $556,100. Home prices were also 4.4% higher than in the fourth quarter of 2020.
❱ Buyers appear to be out in force, and this demand—in concert with very low levels of inventory—continues to heat the market.
❱ Prices rose over last year across all markets covered by this report, with the exception of the very small Gilpin County. All other counties saw sizeable gains and the trend of double-digit price growth continued unabated.
❱ Affordability levels are becoming a greater concern as prices rise at a far faster pace than wages. Even though mortgage rates have started to rise, they haven't yet reached the level needed to take some of the heat out of the market.
DAYS ON MARKET
❱ The average time it took to sell a home in the markets contained in this report dropped 20 days compared to the first quarter of 2020.
❱ The amount of time it took to sell a home dropped in every county contained in this report compared to the fourth quarter of 2020.
❱ It took an average of 25 days to sell a home in the region, down one day from the fourth quarter of 2020.
❱ The Colorado housing market remains very tight, as demonstrated by the fact that it took less than a month for homes to sell in all but two counties.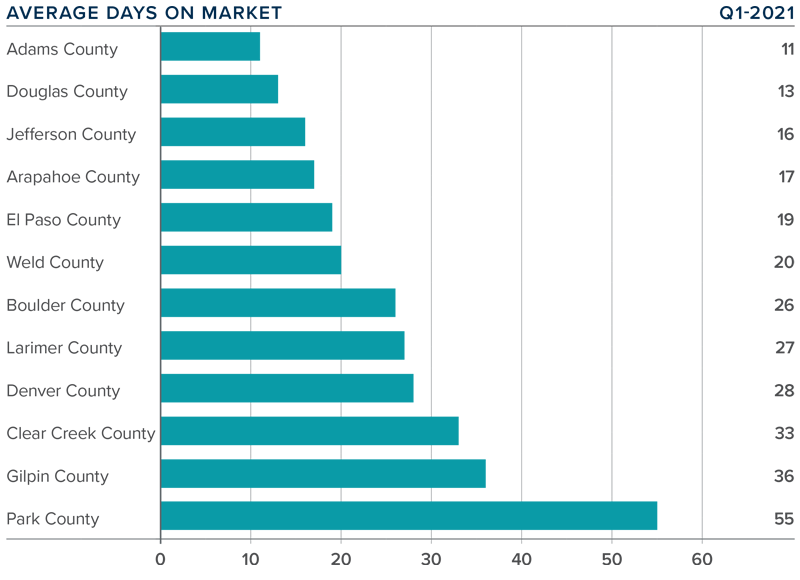 CONCLUSIONS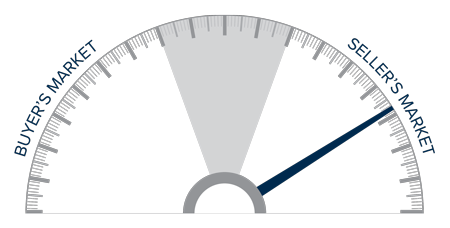 This speedometer reflects the state of the region's real estate market using housing inventory, price gains, home sales, interest rates, and larger economic factors.
The relatively low level of home sales is not a surprise given how few choices there are for buyers. Sellers are certainly benefitting from strong demand, as demonstrated by the significant price growth. I maintain my belief that there will be an increase in inventory as we move through the year, but it is highly unlikely that we will see a balanced market in 2021.
Given these factors, I am moving the needle a little more in favor of sellers, as demand is likely to continue to exceed supply.
ABOUT MATTHEW GARDNER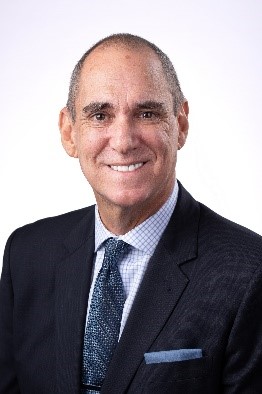 As Chief Economist for Windermere Real Estate, Matthew Gardner is responsible for analyzing and interpreting economic data and its impact on the real estate market on both a local and national level. Matthew has over 30 years of professional experience both in the U.S. and U.K.
In addition to his day-to-day responsibilities, Matthew sits on the Washington State Governors Council of Economic Advisors; chairs the Board of Trustees at the Washington Center for Real Estate Research at the University of Washington; and is an Advisory Board Member at the Runstad Center for Real Estate Studies at the University of Washington where he also lectures in real estate economics.
In the residential real estate industry, inventory is typically measured in months.
For example, the definition of a "sellers' market" is when there is less than 4 months of inventory on the market.  Meaning, at the current pace of sales, it would take less than four months to sell all the homes currently for sale.
Today it makes more sense to measure inventory in days instead of months.
Here is the number of residential properties currently listed for sale in each market:
Larimer County = 255
Weld County = 261
Metro Denver = 1,645
Here is the current pace of sales in each market:
Larimer County = 10/day
Weld County = 10/day
Metro Denver = 112/day
So, at the current pace of sales, this is how long it would take to sell all the residential properties currently for sale in each market:
Larimer County = 26 days
Weld County = 27 days
Metro Denver = 15 days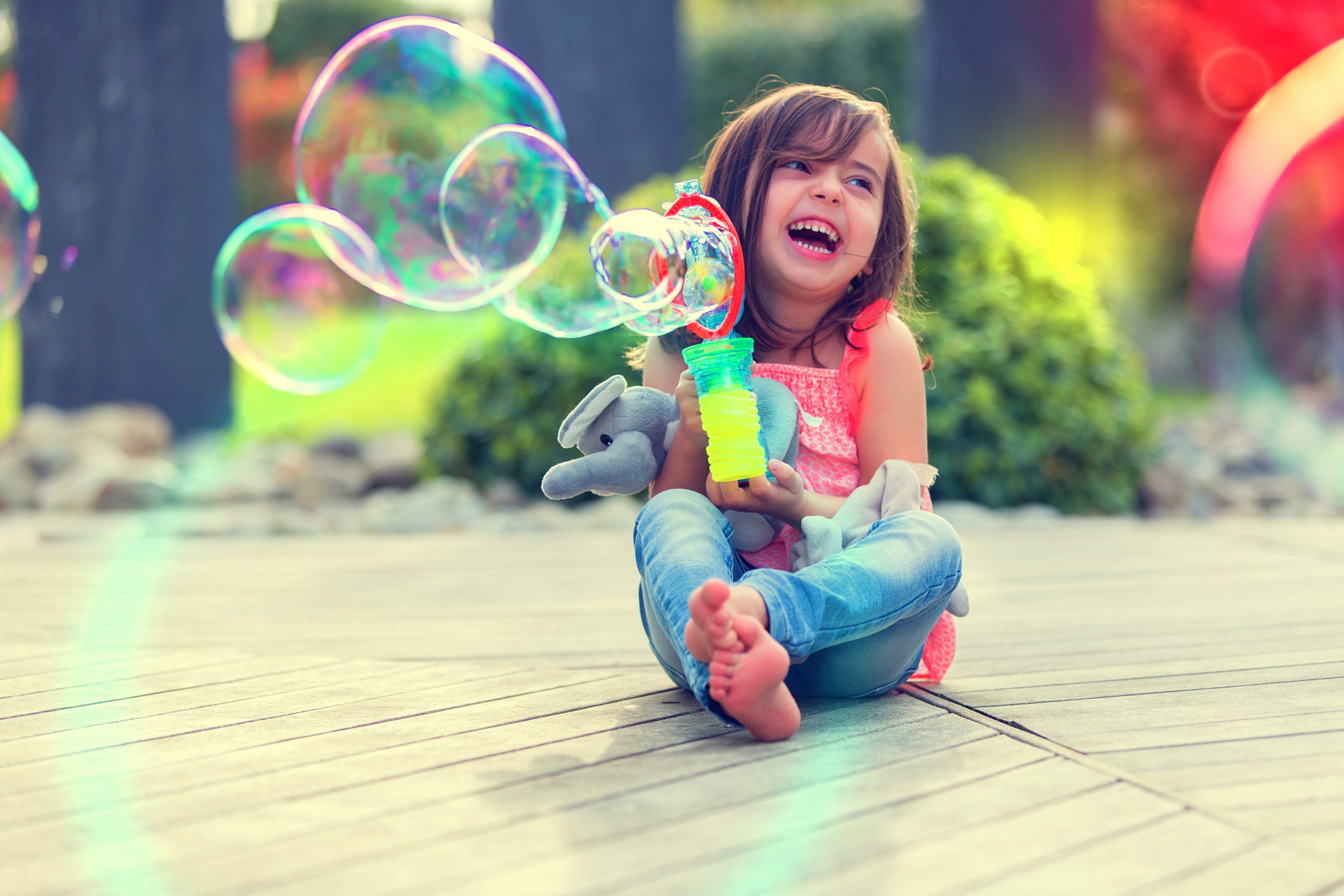 A hot topic of conversation these days is the prospect of another real estate bubble.  People wonder if prices can continue at their current pace and some fear a repeat of 2008.
Because we get asked about this topic so often from our clients, we thought it would make sense to ask our in-house expert, Matthew Gardner.
Matthew is our Chief Economist and was our Keynote Speaker at the Windermere Annual Market Forecast.
During the Forecast presentation, he discussed the bubble concerns and laid out his reasons why he sees no potential of prices bursting along the Front Range.
Quite the opposite actually, he sees that prices will continue to go up, but just not as fast as they have been.
His reasons for no bubble bursting are as follows:
Record-low inventory – prices cannot crash without a glut of supply on the market
Highly-qualified buyers – lending guidelines are more stringent today than they have been in our lifetime
Growing jobs – job growth in Colorado is projected to far outpace the national average this coming year
So, we project a healthy real estate market in 2021.
To see a replay of the Forecast presentation, simply reach out to us, we would be happy to send you the recording.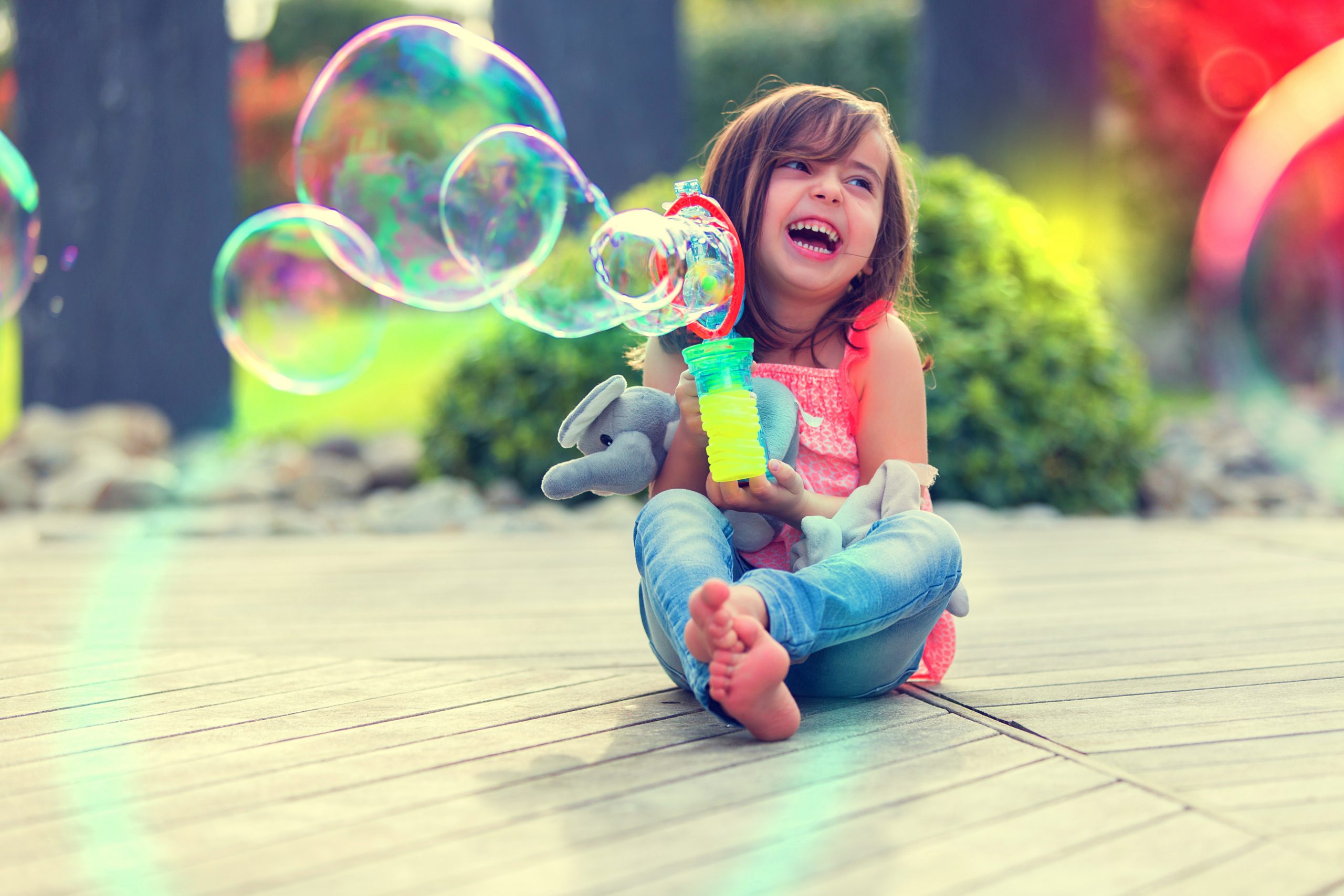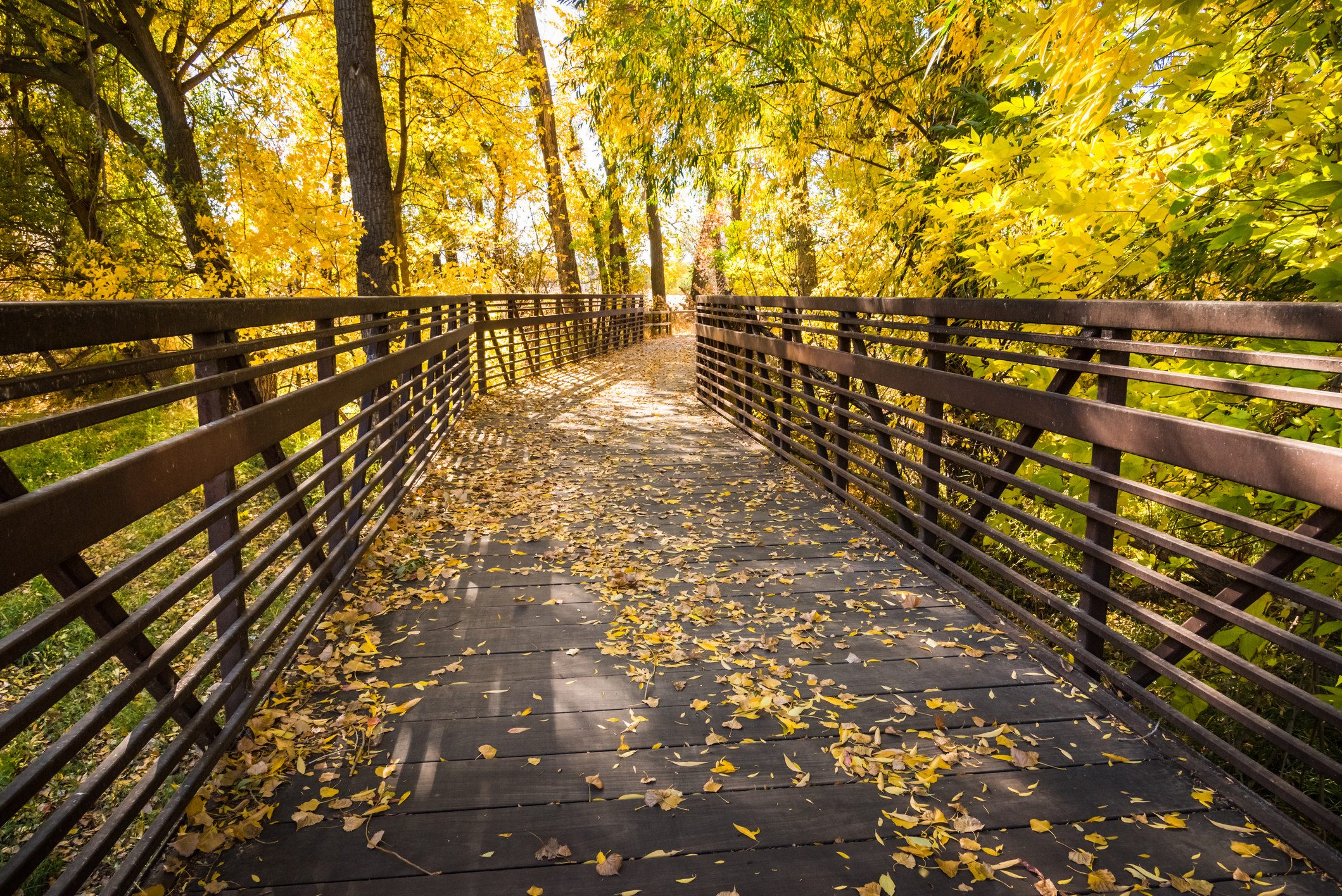 We just completed a review of the September numbers in our market.
Here is the one number that is standing out to us – average price.
Prices are way up over last year.  Here are the specific average price increases in each of our markets compared to September 2019:
Metro Denver = 13.2%
Larimer County = 16.9%
Weld County = 7.4%
This change in prices has of course generated questions from our clients.
To help our clients answer questions about prices and other real estate topics, we have set up a private online event with our Chief Economist Matthew Gardner.
The event is set for Tuesday from 9:00 to 10:00.
Simply reach out to any Windermere broker to receive your registration link.
Matthew will be addressing these questions as well as many others:
What effect will the election have on the economy and on real estate?
How long can interest rates stay this low?
Can prices keep appreciating at their current pace?
This online event is for the clients and friends of Windermere.  If you would like to register, please connect with your Windermere broker.


Exclusive Invitation!!!
Tune in on Tuesday, October 6, 2020 at 9:00am to meet with Matthew Gardner, Windermere Real Estate's Chief Economist LIVE and get your chance to ask him questions. He'll be discussing the housing market, employment and the effects of COVID-19 on the local and national economy.
As one of the only real estate companies in the US that has a Chief Economist on staff, we have exclusive insights into the housing market, economy and government happenings. This is a one of a kind event for clients and friends of Windermere Real Estate in Colorado.
To sign up, please contact your Windermere Agent or message us to get the link. Seating is limited in digital meeting room so get your seat!
(If you can't attend live, you can register to automatically get the recording.)