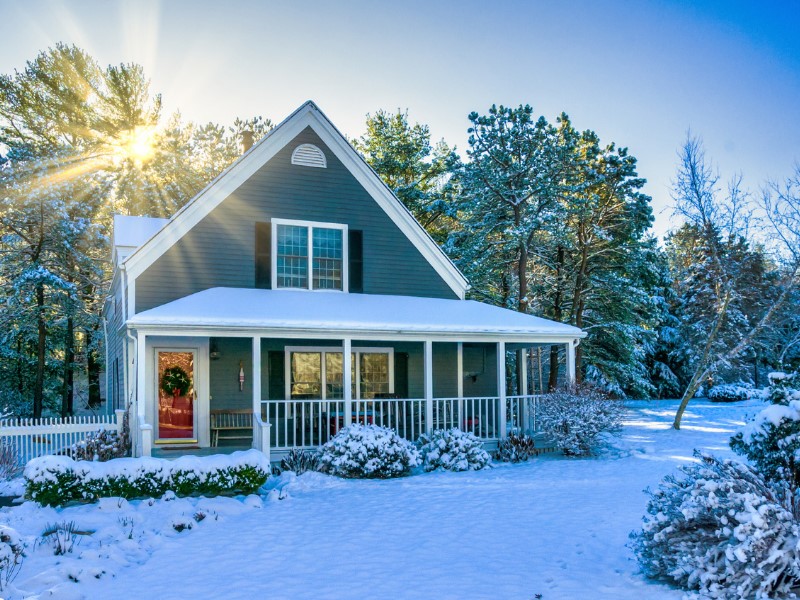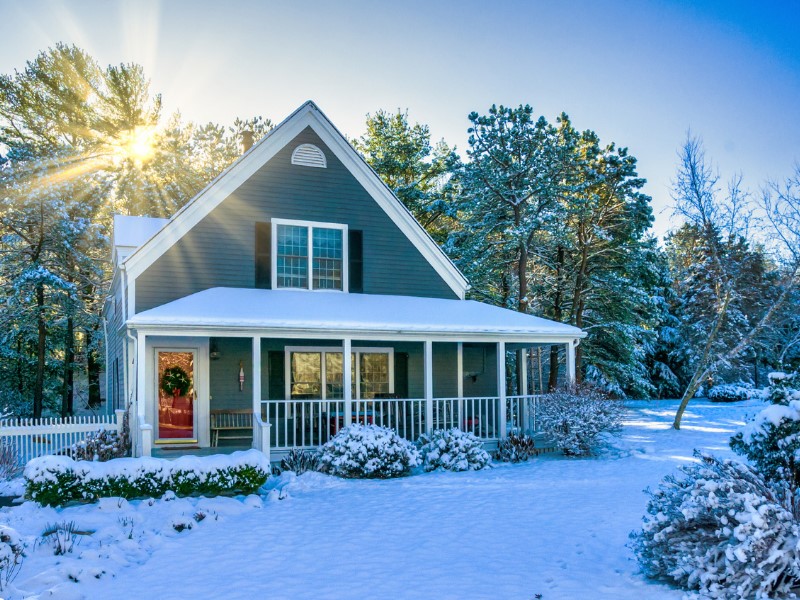 Winter is a magical season to spend at home. We all want to be able to enjoy the shorter days and longer nights from the comfort of our homes while we watch the season change.
To truly enjoy this winter at home with peace of mind, you'll want to complete a home maintenance checklist to prevent unexpected costs, ensure your family's safety and warmth, and keep your home in the best shape for the winter season ahead.
1. Weatherproof Windows & Doors
One of the best preparatory measures you can take to keep the cold from infiltrating your home is to weatherproof your windows and doors. Any leaks or cracks could lead to a chilly household and increased heating costs. Either weatherstripping or caulking will do the trick for minor leakage issues, but for any severe problems you may want to consider a replacement.
2. Protect Your Pipes from Freezing
 Burst pipes can be disastrous regardless of the season, but winter temperatures pose a greater risk than any other time of the year. Be sure to wrap interior pipes to provide them some insulation against the change in temperature. You'll want to bring all hoses inside but remember to turn off your exterior water source before you do.
3. Prepare for a Winter Storm
 Being fully prepared for the winter ahead includes completing both preventative home maintenance and disaster preparedness tasks. Keep a supply of flashlights and batteries handy in case a power outage should occur. If you have a fireplace, stock up on firewood so you'll have plenty of fuel for your heat source. It's best for your family to put together an emergency kit and evacuation plan so you're prepared for any local weather emergencies.
4. Chimney Sweep and Fireplace Maintenance
We become more reliant on fireplaces, wood burning stoves, and chimneys to heat our homes during the winter. Accordingly, it's crucial to prepare for the uptick in their usage. Clear out your air vents before your daily fires begin. When your fireplace is not in use, be sure to close the damper to save energy. Clogged chimneys can lead to house fires and carbon monoxide poisoning. Investing in a chimney sweep can save you money in the long run, while avoiding health scares.
5. Clean Out Your Gutters
After all the leaves, pinecones, pine needles, and other autumnal debris have fallen, it's best to clean out your gutters in preparation for winter. By keeping your gutters clean you'll avoid gutter damage from melted snow draining improperly. Make sure your downspouts are pointing away from your home's foundation to prevent basement leaks and flooding.
6. Heating System Maintenance
 Keeping up on your heating system's efficiency is an integral part of winter home maintenance. If you use a furnace, be sure to clean out your air filters and ducts, making replacements as needed. Covering your HVAC system can help to prevent damage from any debris or moisture getting in. To protect against heat loss, seal your ducts with mastic tape or foil tape.
7. Reverse Your Ceiling Fans
If you have ceiling fans in your home, there is a handy trick you can use to improve your home's heating efficiency. By reversing the direction of your ceiling fan—running the blades in a clockwise direction—you'll create a slight updraft, forcing warm air near the ceiling downward.
8. Bring Your Plants Inside
 The winter season usually spells trouble for your potted plants. However, there are methods to keep them alive indoors through the winter months. You'll want to provide continual air circulation, so keep a fan blowing in the direction of the plants. It's best to mirror the conditions the plants will face outdoors, so you can afford to keep watering to a minimum. Since it is a harsher season, keep a close eye on your plants as the winter progresses.
After your checklist is completely crossed off, you'll be able to kick back, relax, and enjoy your winter at home in comfort knowing your home is primed and ready for the winter season ahead.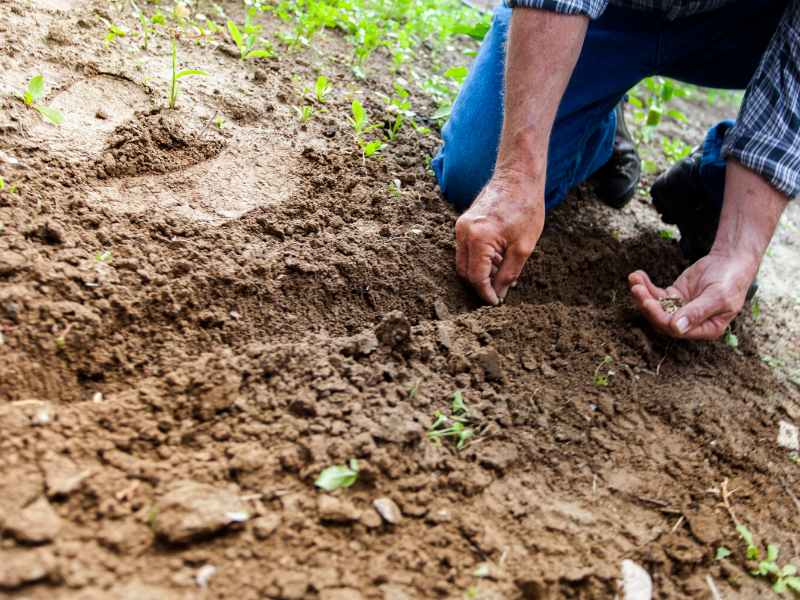 This year's Earth Day will certainly look different than in years past. With no large gatherings, marches or events, most of us find ourselves celebrating from home. Fortunately, when it comes to reducing your footprint or assessing the eco-friendliness of your lifestyle, your living space is a great place to start. Here are some tips for celebrating Earth Day from home.
Outside the house:
The combination of spring weather and current shelter and stay-at-home orders have created a gardening renaissance. With April being gardening month and the amount of time we find ourselves spending at home these days, now is the perfect time to start (or get back to) your garden.
Kick up your composting efforts or build out a composting area in your garden.
Get started with a nature DIY project, like a garden shed or planter boxes.
Make your garden your own escape. This is more important now than ever, for your health and the health of your household.
Around the house:
Perform a plastic audit of your home.

Take count of the plastic items used in your kitchen and bathroom and rethink their necessity.

Get in the habit of turning lights off when you leave a room.

Little by little this can add up and is an easy green practice for Earth Day and beyond.

Turn off the faucet when you aren't using it.
Unplug your appliances after using them.

They still use energy even when they aren't turned on.

Turning off phones, tablets, and computers at night will save energy.
Use cold water to wash your laundry.

This sidesteps any of the energy your machine uses to heat water—which is a large percentage of their energy output.

Add plants.

This has a myriad of benefits for both your health and your wallet.
Plants are known to reduce stress and regulate temperature, which saves on the energy required to heat and cool your house.
By doing these little things around the house you can maximize your Earth Day impact and get an idea of how you can incorporate them into your lifestyle as time goes on.
Educate:
Earth Day carries educational significance as well. Learning more about our planet and how we can do our part in its health moving forward is an important aspect of the holiday.
Though you may not be able to attend a lecture in person, there are a bevy of virtual options to participate in Earth Day learning and planetary education. Discuss with your family what actions you can take to make a difference in your household.
Add a nature documentary or series to your watchlist.
Travel from home with virtual tours of national parks and natural wonders.
Try some new cookbooks. For Earth Day-centric food ideas, look for cookbooks with plant-based recipes.
Homeowners everywhere have established an evolved relationship with their homes in recent weeks. Spending time thinking about the footprint of your household and how it allows you to make eco-friendly choices is a worthy investment for Earth Day and beyond.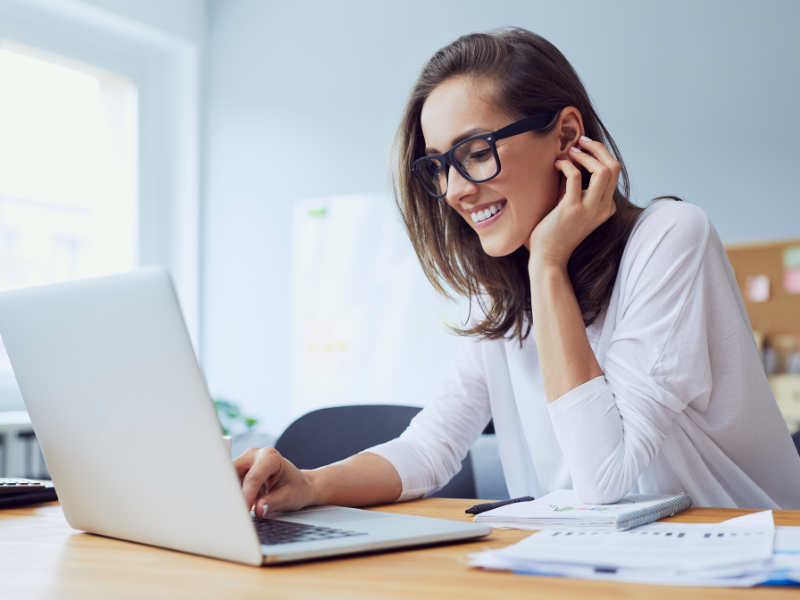 Amid the COVID-19 Pandemic, many of us now find ourselves working from home. While it's hard to complain about the commute, working from home can be an adjustment. For example, you may find yourself doing tasks around the house and suddenly you've missed several important emails. If you feel like you need some help being more productive while working from home, here are five tips to improve your workflow.
Add Light
The best kind of light is natural light. Try setting up your workspace by a window. If that's not possible, add a desk lamp or floor lamp to brighten your space. Not only will it help with visibility; it brightens your mood, which helps you to be more productive.
Declutter
Remove distracting clutter. Take everything off your desk that you don't need. Store it elsewhere or use shelves on your wall to display it.
If you find yourself cleaning throughout the day, set aside time specifically for these tasks. If you're still waking up at the same time you did when working at the office—which studies show is a great strategy when working from home—using your would-be commute time to tidy up helps avoid those periodic distractions.
Bring the Outdoors In
Bringing plants into your home is beneficial for productivity and health alike. Greenery is a natural mood booster and gives life to a room. Plants naturally purify the air, helping you breathe easy as you make your way through the workday. Try arranging both hanging and potted plants to improve the mood around your workspace.
Change Your Chair 
A chair that's too tall, too short, or not comfortable is a fast track to back and shoulder problems that inhibit your workday and linger afterwards. Being in a stationary position for hours at a time requires the right kind of support to stay productive. Features to look for in a quality office chair include proper lumbar support, sturdy wheels, and an adjustable base that allows your shoulders to relax and your feet to rest flat on the floor.
Add Decor
It's important to keep your home office professional and dedicated to your work. However, adding personal touches to the space will help you feel at ease. Position your work computer and phone front and center with any related work tools close by and handy. Adding pictures of loved ones, artwork, and inspirational quotes will help inspire you to generate ideas while working productively.